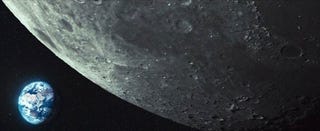 Moon was one of the most intriguing movies of 2009. Paranoid and claustrophobic where other science-fiction films were huge and explosion-happy, Moon relied on one special effect: Sam Rockwell's acting. And now it's out on DVD. Spoilers ahead.
If you missed out on Duncan Jones' lunar masterpiece the first time, or even if you caught it in its all-too-limited theatrical run, the DVD release is a great opportunity. This is definitely one of those films that loses nothing in its transition to the small screen, and it's also a film in which you will pick up little subtleties on the second or third viewing that you missed the first time. Jones didn't just make the most of his limited budget — he also made every minute of running time count.
And I almost forgot to include these — here are some DVD clips the studio sent us:
In case you missed our review when the film hit theaters, Moon stars Rockwell as Sam Bell, a lone miner stuck in a moonbase, mining Helium-3, an energy source desperately needed back on Earth. Sam's nearing the end of his three-year tour of duty, and he's starting to hallucinate, but also to see worrying signs that nothing in his tiny world is what it seems. And that's before he has a near-fatal crash in his Harvester vehicle, and meets the absolute last person he ever expected to run into: himself.