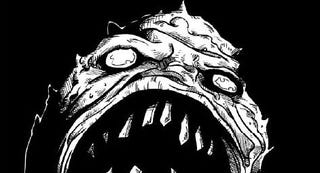 Being a kid is tough. Being a kid with an extra-dimensional shambling gibbering drooling non-Euclidean monster for a pet? That's something else entirely. Welcome to Monsters and Other Childish Things.
Monsters and Other Childish Things is a role-playing game in which all of the player characters are children. They have to deal with many of the same problems as real children: bullies, parents, mean teachers, creepy guys, other children, cultists, demons, nameless horrors, living nightmares, and so on. Luckily, they also have help – their own pet monsters, great lumbering beasts (or whispering stalkers, or anything else you can imagine) that always have their kid's back.
The monsters have a bunch of attributes that make for fun role-playing. They truly love their kids, and try to help them whenever they can. The problem is, they don't really understand humans all that well, so their helping tends to go awry in pretty severe ways. Monsters can hide, so kids can keep them around at all times and adults or monsterless children are none the wiser (unless the kid talks to his monster in public, which can be awkward). Each monster hides in a different way. Maybe it turns invisible, or takes on an innocuous form, shrinks to nothing or folds itself into another dimension.
The core rulebook is packed with hilariously bizarre concepts. My personal favorite is the giant fanged teddy bear named Yog'So-Soft. There's also a multi-tentacled math teacher called an Excruciator and another favorite of mine, O'Malley the Anti-Drug Dog. He's just a guy in a giant dog costume telling kids not to take drugs, but the police don't remember hiring him, he seems to stay around for days on end, and no one's ever seen him out of costume. Weirder still, when monsters look at him, they don't see anything at all.
The rules for Monsters and Other Childish Things are based on publisher Arc Dreams' Wild Talents system. Each action requires a roll of several ten-sided dice (the better you are at something, the more you roll). The number of matching dice you roll combined with what number is on those matching dice determines your level of success at an action, whether that involves having your monster bite another kid's monster, or just picking a lock.