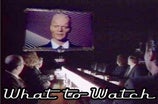 Everything in televisionland seems to be getting back to normal this week, just in time for us all to get used to it before the Olympics come along to ruin everything. But until then: New shows, including Caprica's debut!
MONDAY
It's a day of marathons; Syfy are running an Invaders marathon from 8am through 6pm, while Discovery goes one better with another Mythbusters marathon from 9am to 9pm. Why the marathons? Because it's a holiday, of course. Don't worry; we forgot as well. The day really comes alive at 8pm, though, when you can choose between Superman Returns on AMC, Witchblade anime on IFC or Chuck on NBC. Chuck's episode is "Chuck Vs. Operation Awesome":
When the evil Sydney Price mistakes Awesome for a super spy Chuck must become his handler and show him the spy ropes. While on a mission for The Ring, they meet the mysterious Daniel Shaw. Meanwhile, Morgan is promoted to assistant manager and must deal with Jeff and Lester's latest hijacks'.
Hiro subconsciously deals with some of his past decisions as his brain tumor worsens; Claire receives an unexpected visit from Sylar; Samuel s plan to impress Vanessa takes a frightening turn.
Ted romances a beautiful German executive who cannot speak a word of English. Veridian is developing a translation device for her company, enabling the two to communicate. The problem is, the voice of the device is Phil's, which ruins the mood for Ted.
WEDNESDAY
Aside from The Matrix on AMC at 5pm and your daily Syfy marathon (Tales From The Darkside) from 8am through 3:30pm, it's one of those days where you might want to see the sun or something. Go outside. Take a book.
THURSDAY
If it's Thursday, we're into busy television country. Syfy starts the day with a marathon of The Sentinel, starting at 8am and running until 3pm, but the real meat of the day starts at 8pm on the CW, with a new Vampire Diaries:
Damon travels to Georgia and surprises an old flame (Gina Torres), but he s confronted by someone who attempts to make him pay for past wrongdoings.
Then, you get to choose between a new Supernatural on the CW at 9pm -
Dean and Sam check themselves into a mental hospital so they can investigate a monster that is attacking patients.
- and a new Fringe on Fox at the same time:
When a man enters an office in Boston for a meeting, he becomes disoriented and collapses, only to have his veins erupt and spray blood everywhere. Shortly after Olivia and Peter arrive at the scene to investigate the bizarre case, it's discovered that a lethal virus with deep ties to something very valuable is spreading, so the CDC moves in to quarantine the building and eradicate the pathogens. Isolated inside with the rest of the exposed office employees, Peter and Olivia face life-threatening circumstances, sending Walter, Broyles and Astrid on a frantic search for a solution to save them.
Oliver squares off against the Dark Archer, his revenge-minded former mentor.
Yes, "Dark Archer." They're really straining themselves with these names. Maybe you should just tune into Pitch Black on AMC at the same time, instead.
SATURDAY
Saturday means only one thing now: A new episode of Demons on BBC America at 9. This week, there're more power-hungry vampires from Mina's past appearing. Wouldn't it be great to see a non-power hungry, non-emo vampire on one of these shows?