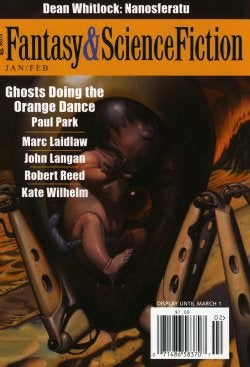 The Magazine Of Fantasy & Science Fiction has joined forces with Suvudu, Random House's science-fiction site, to offer free fiction online — which means you can check out John Langan's haunting story "City Of The Dog."
"City Of The Dog" is the story of a creature that only appears at first to be a dog, and the love triangle that three young people are stuck in. It contains some of Langan's trademark clever writing, like "At the end of forty-five minutes that took me to every spot in the club except the Ladies Room, and that left the Macallan a phantom in my glass,
I was no closer to locating Kaitlyn." Or: "The odor of soil and clay was interrupted by that of grease and metal, of the eight inches of gun ready to bridge me out of this life." Like Langan's novel House Of Windows (which is out now, and which we wrote about here), "City Of The Dog" is about uneasy living arrangements and the monstrosities that intrude upon them.