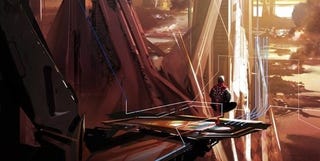 We've been tempted to hack our own biochemistry to speed up our perceptions of time and ease the wait for Geosynchron, the third book in David Louis Edelman's ambitious biohacking/reality-hacking saga. But it's here at last, more warped than ever.
There are definitely spoilers in this review, although I don't give away any major plot points in the third book.
Edelman's "Jump 225" trilogy, in a nutshell, is the story of an unscrupulous entrepreneur, Natch, who somehow becomes entrusted with the most important technology in human history. Multi-Real allows you to select among every possible action you could take, until you find the variation that puts you on top. Because everyone in the world is full of "bio/logic" systems that regulate body chemistry and connect people to the "Data Sea," somehow everyone's shared neural links cooperate in running endless simulations of how everyone would behave in a particular situation, until finally one choice is locked in. At least, that's how I understand it.
So Natch becomes the "Geosynchron," or the person who has to make the defining choice for the entire human race — we can be freed from the "tyranny of cause and effect," and live in a world where we get to try out every choice, or make every throw, until we get it right. (And risk a calamitous collapse of the Data Sea) Or we can turn our back on this technology until we can develop it with more safeguards.
As we noted in our review of volume two, MultiReal, this is really a story about new technology, and society's attempt to figure out how to deal with it. The government wants to control it (and maybe use it to rule with a tighter grip.) Business people want to make money off it. And libertarian extremists want to give it to everyone, so we can all be free of causality forever. In the middle of all this is Natch, who doesn't have an ideology — he's just pure ego, with occasional flashes of petulance. Or rather, he was — because Natch has experienced some growing pains lately.