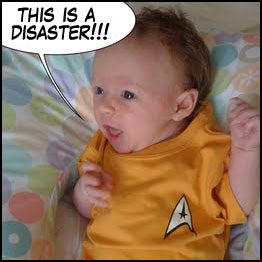 Well hello there everyone. The minion is doing well and she gave me a little break from fatherhood to bring you all a new disaster for the new year.
It's been a little while since I've done a column so for any new readers out there who don't quite get what this is, just insult the column in the comments and someone will explain it for you. And I promise that is the only time I'll use my baby for the header... probably.


AVATAR:
So many are comparing it to "Dances With Wolves" but is that really what it borrows from? For your examination I present to you "The Plot of Avatar In Under A Minute, Complete With Visual Aids". Thanks to io9 blog buddy Braak for the Voice Over.




AVATAR PT 2: Helping James Cameron
I hate to sound like I'm flogging a dead six legged horse here, but trust me I'm past denial and onto acceptance. You see, at first I couldn't believe that Cameron used the infamous Papyrus font for Avatar's logo. In the graphic design world Papyrus is mostly used as a cheap graphic shorthand to denote something "earthy" or "spiritual" and I just felt that James Cameron didn't need to resort to such gimmickry to sell a movie. Turns out I was way, way wrong and that man knows what's profitable. So to give him a hand on his next film, Battle Angel, I have taken the liberty and designed an appropriate teaser poster. You see, the film's based on a comic book and it is important to convey that fact to the audience in a quick and easy way. So I present...




NEW WHO:
After a run of specials that seemed intentionally designed to make us not miss David Tennant (like that's possible) we have a new Doctor right around the corner!!! But in this recent set of stills I couldn't help but notice that I've seen that swaggering time traveler before.