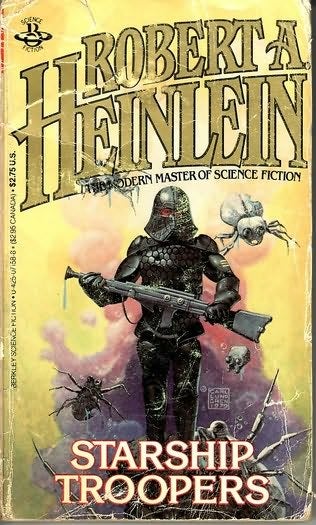 Starship Troopers is one of Robert Heinlein's most famous books, and one of the most famously controversial in SF. And the 1960 Hugo winner has its problems — but that's probably why it's a classic.
Man, I accomplished straight-up nothing over the last fortnight or so. In fact, those of you who are especially alert, as well as those of you who have built tiny shrines in your basement to honor me*, may have noticed that this particular piece of writing was supposed to run last weekend. Well, I was on Christmas break. I have always found it very difficult to get anything done during the holidays, and now that I am fully self-employed, this is more true than ever: I take a couple days off, it spirals into a few more days, and pretty soon I am back to staying up till 3 a.m. watching whatever is on AMC and sleeping in until noon. IT IS VERY DIFFICULT TO IMPOSE ORDER ON MY LIFE FROM WITHIN, AND I OFTEN WISH I WERE BACK IN HIGH SCHOOL AND ON A RIGOROUS, PREDETERMINED SCHEDULE. I believe I am not alone in this.
Which is why, I think, Starship Troopers is such an appealing book.
(Let me briefly interject that if you haven't read it, you ought to. I can now say with some authority that it's the first Hugo winner that can be called an honest-to-goodness classic, and deservedly so. As I mentioned back in November, Heinlein has one of the most engaging voices in SF lit, and this is him at his most engaging. The story is accessible and fast-paced — surprisingly so, given how much of it is comprised of conversations, rather than action — and if you're a fast reader, you can finish it in a day. Anyway, it's part of the canon, and it should be.)