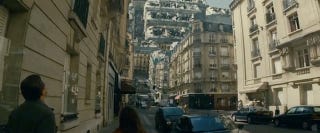 Are you prepared for cinematic awesomeness? This year sees a number of movies we're eager to watch, from Christopher Nolan's acid trip to new Iron Man, Predator and Tron films. Here are 20 reasons not to give up on movies.
2009 was a mixed year for films, to say the least — a number of films last year were delayed or rushed into production because of the writers' strike. And yet, we're still getting movies that were delayed due to that strike (among other reasons.) According to the New York Times, Daybreakers was filmed in 2007, and The Wolfman and Repo Men were filmed in 2008. But at least the majority of films coming out this year had a completed screenplay before they started filming, which could be a good thing.
So here are the 20 movies we're most eager to see this year. As usual for io9, these movies include science fiction as well as "urban fantasy" which takes place either in the present day or close to the present day. So no Clash Of The Titans. And no A-Team, unless it turns out to be more science-fictional than we're expecting.
The Book Of Eli (Jan. 15)
What it's about: The world ended decades ago, and now Eli (Denzel Washington) is the last guardian of a special book that could save the human race. But Gary Oldman wants it too, and he's got a rocket launcher, among other things.
Why we're pumped: We haven't seen a really fun post-apocalyptic action movie — without zombies — in ages. And the Hughes Brothers, who gave us Menace 2 Society, do know how to create great action set pieces. The gritty look of this film's wasteland is pretty compelling, and this could be the film we were hoping Terminator Salvation and 9 would deliver.
The Lovely Bones (Jan. 15)
What it's about: Peter Jackson adapts Alice Sebold's novel about a young girl who gets murdered by a pedophile, and then finds herself in a kind of purgatory.
Why we're pumped: Our early review, from horror/SF writer John Shirley, praised this movie's mixture of surrealism and suspense. Dali meets Hitchcock, from the man who made a Lord Of The Rings adaptation work — what's not to be excited about?
Legion (Jan. 22)
What it's about: A group of humans under siege in a truckstop discover their attackers are angels, sent to destroy one pregnant woman whose child has a huge destiny. Only one fallen angel (Paul Bettany) can save them all.
Why we're pumped: Maybe we're just in the throes of Supernatural withdrawal, but this story of morally compromised angels and Armageddon seems like perfect cheesy fun. The clips we've seen so far are pleasingly violent, and supernatural mayhem in a truckstop seems like a recipe for good times.
The Wolfman (Feb. 12)
What it's about: Benicio Del Toro and Anthony Hopkins star in this revival of Universal's monster movie franchise, about a man who becomes... wait for it... a wolf.
Why we're pumped: Well, it's got to be better than Jack Nicholson. Actually, the trailer was pretty thrilling and promised some old-school horror schlock. The reshoots may actually have helped to give the film more of an edge. And Anthony Hopkins is playing Malcolm McDowell! So why not?