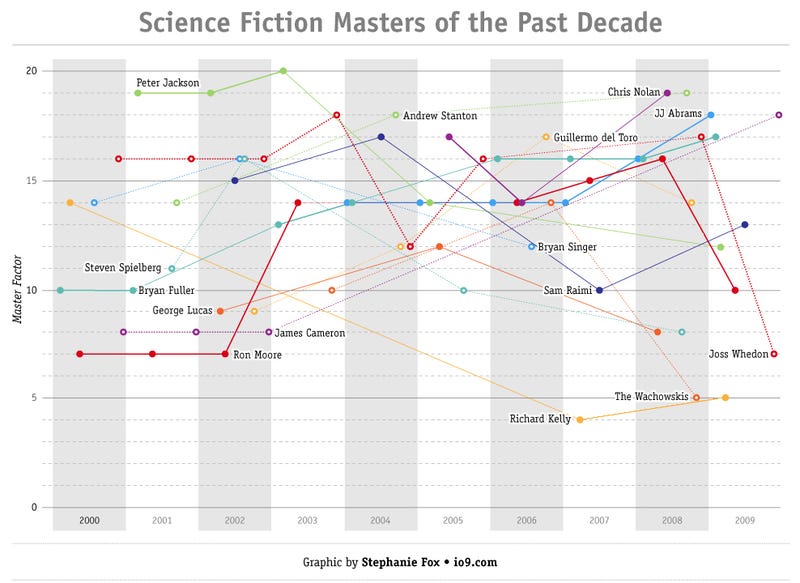 Have any movie directors or producers revealed themselves to be "masters" of science fiction in recent years? In this chart, we look at how some of the contenders for SF mastery have fared.
Update: I apologize, I haven't been online much due to the holidays. I realized that there was an erroneous data point for Andrew Stanton in 2009 that was never supposed to be there. I missed it when I initially looked over the graph, but it's been removed now.
As we've been reflecting on the last ten years, we've been asking ourselves whether any true "masters" of science fiction and urban fantasy have emerged, especially in film and television. It's certainly been a decade of highs and lows, of old masters who've begun to fade and bright new stars just cresting the horizon.
To that end, I've attempted to chart the relative "master levels" of various directors and television producers over the several years. This is an utterly unscientific chart; I looked at the projects these folks have had since 2000 and assigned each one a "master level." The number reflects my understanding of the projects acclaim, its ability to attract an audience (i.e. box office/Nielsen numbers), its awards, whether it succeeded in something unusual (such as a relatively popular foreign language film in the case of Guillermo del Toro's Pan's Labyrinth or Dr. Horrible's status as a breakthrough web film), and the nebulous sense that it add or subtracted from the individual's "geek cred." The numbers themselves are largely subjective and, of course, you should feel free to nitpick.
The greater purpose was to offer a watercolory sense of whether any "masters" have emerged from this crowd. Certainly, the last year has brought low some of the genres' promising potentials. Joss Whedon entered into the decade riding high on a Buffy/Angel cocktail. Though his name wasn't enough to overcome Fox's confusing treatment of Firefly, but the show's eventual cult popularity led to the Serenity feature film, and the Whedon brand helped make Dr. Horrible's Sing-Along Blog an important moment for web-based content. Perhaps this all made Dollhouse — which has been, by turns, frustrating and brilliant — all the more disappointing, its impeding demise fairly readily accepted, even by Whedon's fanbase. Similarly, Ron Moore's Battlestar Galactica, despite being regarded by some readers as the most overrated scifi of the decade, was regarded by many as a turning point for smart, politically savvy space opera. But a rocky final season punctuated by finale filled with dei ex machinae left a lot of folks sour on the entire series. And the Wachowskis, while doing a solid (though Alan Moore-enraging) bit of cinema with V for Vendetta, never quite lived up to the promises of The Matrix.