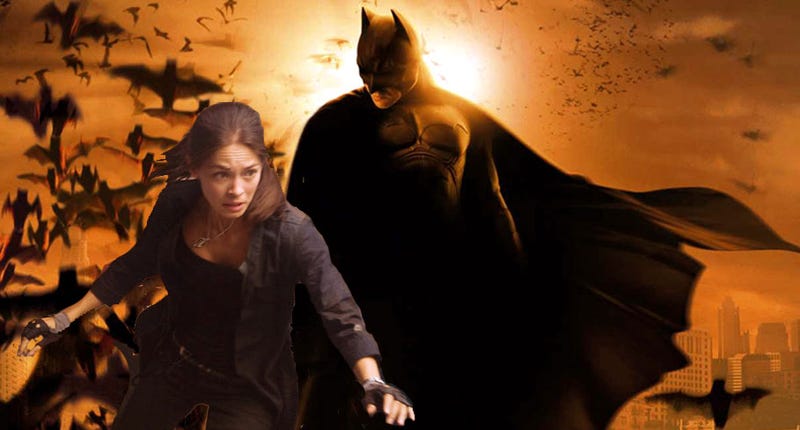 Ten years ago, superhero films and video-game films were both minor genres. You had your Batman Forever and your Mortal Kombat, but not much else. Both genres blew up in the 2000s, but superhero films won much bigger. For now.
The 1990s were a pretty weak time for movies based on both video games and superhero comics. On the video game side, there were Super Mario Bros., Street Fighter and a couple of Mortal Kombat films. And on the superhero front, Batman acted out the law of diminishing returns. And that was about it. (I'm going to pretend Steel didn't exist.)
And then in the 2000s, CG visual effects caught up to the amazing superpowered spectacles that comics and games had led us to expect. In 2000, Bryan Singer, well-regarded director of The Usual Suspects, directed X-Men, which was a huge success. And the floodgates of superhero movies opened. Meanwhile, we got movies based on Tomb Raider, Final Fantasy, Resident Evil, and a ton of others.
But superhero movies have vastly outgrossed video-game movies, according to Box Office Mojo: $7.2 billion to $900 million. (And to be fair, the site lists 77 superhero films, and only 28 video-game films.) Not only that, but directors like Singer, Christopher Nolan, Sam Raimi, Jon Favreau and Ang Lee have been willing to venture into superhero films. By contrast, the most well-known video-game directors are people like Paul W.S. Anderson, and... Uwe Boll.
Why is this? There seem to be a few reasons. For one thing, many of the most successful video games haven't yet made the leap to movies. Neill Blomkamp's Halo film could have been the X-Men of video-game movies, but it fell apart. Ditto for Gore Verbinski's BioShock movie, which seems to have stalled out due to budgetary concerns.
And it's possible that translating video games to movies requires a higher level of CG mastery than translating comic books — the CG renditions of superhero comics just have to live up to our memories of 2-D pen-and-ink drawings. A live-action CG rendition of a video game, meanwhile, has to look cooler than the already impressive computer graphics most games serve up these days.
But also, movie adaptations of video-game films have generally employed the same kinds of story logic you used to see in the Joel Schumacher Batman films. Like, really — the Doom film, which featured evil alien parasites whose tongues could tell if you were genetically evil or not. Let me just repeat that: They had tongues that could genetically scan you and figure out if you were evil. No superhero movie in the past decade has shown that level of disrespect for the audience or the material. Sure, the Tomb Raider and Resident Evil films were a lot better — but even the mediocre superhero films showed a certain commitment to telling a semi-coherent story. Most comic-book heroes have decades of stories in the bank, however contradictory and full of holes, and the films have gotten slightly better about drawing on them.