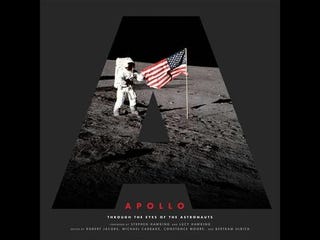 Apollo: Through the Eyes of the Astronauts Each of the 21 surviving astronauts from the Apollo missions has chosen a favorite photograph from his space flight for the book, and these are presented alongside other classic and previously unseen images of the Apollo space missions. With a foreword by Stephen Hawking.

Voices From The Moon. The other great Apollo book this year is by Andrew Chaikin, who also wrote A Man On The Moon. This book compiles never-before-published quotes from his interviews with 23 out of 24 Apollo astronauts, recalling their experiences in vivid detail. Plus 160 high-res scans of the images the astronauts took during their mission.

One Giant Leap: Apollo 11 Remembered. Another book timed to commemorate the 40th anniversary of the Apollo Moon landings, this one draws on the entire suite of "Apollo's on-board film magazines" to create a picture of life aboard the capsule, as well as the landing and moonwalk, and the astronauts' lives as celebrities after they returned.

Spacesuits: The Smithsonian National Air and Space Museum Collection. And then there's this... an awesome collection of spacesuit images, showing all of the great gear that's in the Smithsonian collection. It includes some prototypes that nobody's ever seen before, as well as suits from some very early missions, and it's a crucial insight into the evolution of the spacesuit.

Painting Apollo. We featured some of astronaut Alan Bean's beautiful art before, but now here's an entire book of his great moon paintings.