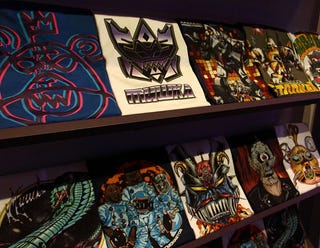 Under Brooklyn's elevated JMZ subway sits a curious clothing label. On one hand, their apparel often appears in rap videos. On the other, they've released a t-shirt featuring He-Man in S&M gear. Welcome to the wonderfully warped world of Mishka.
Since the mid-2000s, Mishka NYC has been at the vanguard of popular streetwear. A cornerstone of their success has been designing clothing influenced by gonzo horror, Z-grade sci-fi, and the overall dank and stanky underbelly of pop culture. Indeed, their gear is worn with equal aplomb by metalheads and hip-hoppers (Lil Jon and Lady Sovereign have sported Mishka in music videos), and the label's past collaborators have ranged from everyone from Iron Maiden album artist Derek Riggs to erotic photographer Ellen Stagg to electro-reggae supergroup Major Lazer.
Label heads Mikhail "Mike" Bortnik and Greg Rivera were nice enough to sit down with io9 and answer some questions about Mishka's design philosophy, winter line, and how Stan Lee cold lamps it at Comic-Con:
What's the Mishka origin story?
Mikhail Bortnik (left): It started sometime in '03. My job I was working at was going to close, so I decided to take a stab at t-shirt design, which I had wanted to do since college. This was about the same time I met Greg. A few months into it, I realized I was in over my head so I asked Greg to join on-board and sell the line. Greg immediately came on as a full-time partner. The basic idea was we wanted to sell street wear, but we soon realized there were so many fans who were into both street wear and scifi that there was absolutely no reason we couldn't incorporate these two things.
In terms of scifi, what were your earliest influences?
Greg Rivera (right): A lot of our influences have come from B-horror films, straight-up scifi films, and comic books, especially for Mike. I was big into horror comics when I was kid and also things like The Twilight Zone, Tales from the Darkside, anything with the ironic twist at the end. Both of us are also big toy fans. Being in our early thirties, we grew up with 1980s toys, which ended up being a huge influence in our designs.
MB: One example of this influence was in our Fall 2008 Skyway Trippers collection – we tweaked an Israeli Special Forces design to include the phrase "Spaceknights" in Russian, as a homage to the old Spaceknights comic and toy line.
ROM Spaceknight allusions? That's wild. On a similar note, Mishka has a roster of kaiju-like characters who appears on a lot of your apparel – i.e. the half-serpentine, half-ursine Death Adder and the Cyco Simon skull. What's the story behind them?
MB: Actually the notion of bringing characters into the clothing brand goes back to metal bands. Cyco Simon is a reference to [Megadeth's ] Vic Rattlehead and Eddie from Iron Maiden, and we wanted our own. As for the Death Adder, we use our designs to tell a story with him – he's often seen teaming up with our Soviet super-soldier character.
Are we going to see an Adult Swim series with these guys anytime soon?
MB: I'll be honest, Greg and I would love to be able to a comic book or cartoon series with them.
What was the first sci-fi influenced Mishka piece?
GR: "They Live" was probably one of the first ones. It's hard to remember since we've had so many designs over time.
One of my early favorites was your Judge Death-inspired "Kill Motherfucking Depeche Mode" logo.
MB: That was a mixing of the old Brian Bolland artwork with what people guessed [what the name of German industrial band] KMFDM stood for. KMFDM actually gave us a cease-and-desist for that one.
Really? Not the 2000 AD people?
MB: We figured we'd get something from them or Depeche Mode, but no, it was from the KMFDM people!
On a similar note, when was that moment when you said to yourselves, "Holy crap. We can't believe we just put that on a t-shirt."
MB: The "Tom of Eternia" t-shirt.
GR: Mike had the idea of doing a Tom of Finland-style shirt [featuring He-Man].
MB: If you've never hear of Tom of Finland, he's like the homoerotic artist. There was this impetus [to create this shirt] early on when someone made the comment that all we do is put naked girls and 80s cartoon characters on our shirts. Street wear on a whole seems more macho than we are as a brand, so Greg and I were like, let's do this.
GR: Our friend Robin Nishio – who is this amazing illustrator – met up with us and Mike pitched him the idea. Robin actually went and bought two big books on Tom of Finland and aped the style exactly. That was the coolest because we got so much shit from our customers because it was like, "Here's Skeletor as the master and He-Man down on his knees, gay porn style."
What sort of pieces are in the pipeline at the moment?
GR: We did this series of shirts for [the new heavy metal-themed video game] Brutal Legend and we're working with Dark Horse Comics on a project.