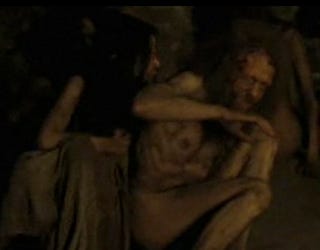 One important cannibal scene in the post apocalyptic film The Road, based on Cormac McCarthy's book, was cut. Here's why, along with how director John Hillcoat feels about his movie being compared to, and marketed as, "disaster porn."
Earlier in our exclusive interview with director John Hillcoat, we discussed exactly what author Cormac McCarthy wanted put back into the film that was originally cut from John Hillcoat's translation. But strangely the writer had no issues with the missing scene from his novel where The Man and The Boy discover a baby being roasted over a fire. We found out just why, from the director...
People are asking why some of the cannibal scenes were cut from the film.
There were some definitely, that I wanted cut. I had to fight to cut them. And I was supported though. Because first of all, I fought like hell to make sure we had shot that stuff, and I got my way. Then I realized it didn't work, it was total overkill. It just made it redundant and didn't have any impact. Because once you go through the road game and the house, the cannibal house, you know about cannibalism. And the trees is the new element. Whereas if you go back to that, it's like going back to the start of the film again.
What was the reasoning for cutting the baby over the fire scene?
It also it all works in the book because it's in your head, when you visualize some of this stuff it just becomes too much. And it was overkill. Luckily, Cormac himself, he really understands how film works as a medium, how different it is. He didn't miss anything from the book other than four lines of dialogue... Just those four lines. Nothing else. He didn't miss any of it, he didn't even bring up the baby. He said, 'Oh, that's irrelevant.'