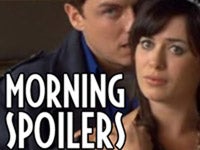 What roles do Timothy Dalton and CCH Pounder play in Doctor Who and Avatar, respectively? It's a spoiler! What will Lost reveal about the ageless Richard Alpert? Plus TV spots from Daybreakers and Lovely Bones. Plus Wolfman and True Blood!

Avatar:
Did you know Warehouse 13/The Shield's CCH Pounder was in this movie? I didn't, until I was looking at the film's imdb page. I was curious, so I dug up this interview with her from April 2007, in which she explains:
I'm playing Moha and she is the queen of the Na'Vi nation, and so it's an environmental love adventure in another time and space.
I'm glad the Na'Vi have some solid leadership. Maybe this is the answer to who's really running the warehouse? [IGN]
Doctor Who:
You may have noticed Timothy Dalton narrating the recent trailers for David Tennant's final two-parter, "The End Of Time." And apparently this is apt, because he plays a character called The Narrator, who may or may not be a villain. (But that doesn't the earlier reports of him playing a Time Lord are untrue — note that he's wearing a Time Lord robe in the one photo we've seen of him so far.) So the Doctor and the Master meet... the Narrator? Okay. [Scotsman]