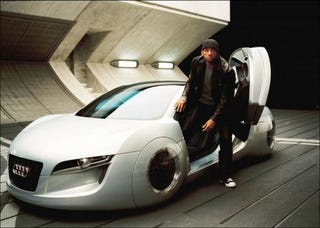 The car's come a long way since Ford started mass production 100 years ago, but science fiction takes transportation even further. Here are six scenarios for the future of driving, and the real-life developments that could make them happen.

The Fiction: The Motorway
In Martha's second trip on the TARDIS in the new Doctor Who, the Doctor takes her to New New York. Much like its present-day namesake, this city is trapped by traffic.
In fact, the only living residents of the city have been stuck in a quagmire called "the Motorway" for decades, all trying to get to a better place. Some even resort to kidnapping so that they can drive in the HOV lanes, which they've heard can cut years off their travel time. Once Martha is kidnapped she finds out they'll make it the ten miles to their destination in a short six years.
The Reality: Traffic and congestion.
It's been said that Americans spend an average of over 100 hours a year commuting, so it's no wonder that scientists are constantly trying to find ways to improve the driving experience. Writers are always imagining new ways for their heroes to get from point A to point B. But how many of those writer's dreams are coming true? Read on.
The fiction: Computer driven cars

Seen in: I, Robot
Pros: You can read, nap, or solve crimes while you're traveling. Accident cleanup is a snap.
Cons: Should the computer system decide to become murderous, you're in a lot of trouble.
The Reality: The Darpa Challenge

(image courtesy of the Team VictorTango website)
DARPA presents prizes to teams creating cars that drive on their own using "various sensors and positioning systems." Their 2007 challenge asked the vehicles to navigate an urban environment and "executing simulated military supply missions while merging into moving traffic, navigating traffic circles, negotiating busy intersections, and avoiding obstacles." Three and a half million dollars in prizes were awarded and six teams finished the course.
The Fiction: Mag-Lev Cars
Seen In: Minority Report
Pros: You can pave everything and make it a road, giving D.C. residents as many lanes than they could ever want. Pull right up to your 200th floor apartment.
Cons: Imagine an accident at those speeds, on the side of a skyscraper. Makes car chase a lot more dangerous.
The Reality: Mag-Lev trains.
While we haven't started putting mag-lev systems in cars yet, we have put them into trains. Japan has the most famous trains using the technology, where magnets are used to both levitate and propel the train. Using magnetic levitation for travel has a lot of advantages, including speed. Not to mention the potential benefits to the environment, and the noise reduction. As we pointed out earlier, the future of rail transport in the U.S. might very well lie with mag-lev technology.