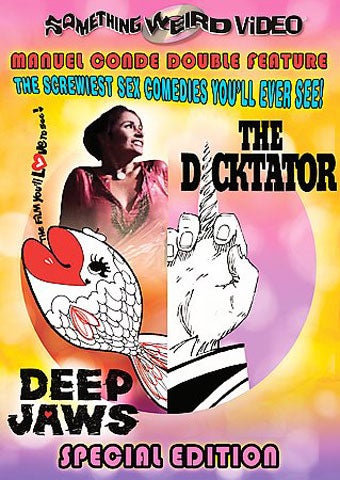 The original source for science-fictional sleaze, Something Weird Video, just launched a new video download service, letting you grab entire weird exploitation movies that your parents felt guilty sneaking out to watch. And they're as cheap as their original budgets.
For just $6 a pop, you can own any one of hundreds of classic pieces of cinema trash, including some movies we've used for our "found footage" feature — and some movies we will no doubt plunder in the future. Don't you want to witness the terrible awesomeness of movies like 50,000 B.C. (Before Clothing), The Adult Version Of Jekyll And Hyde, Atomic Rulers Of The World, Atomic War Bride, Attack From Space, The Curious Dr. Humpp, Curse Of The Headless Horseman, Deep Jaws (featuring "nympho mermaids"), The Dicktator (about a birth control that accidentally sterilizes almost all men), Dr. Sex, Electronic Lover, Evil Brain From Outer Space, Hercules Vs. The Moon Men, Monstrosity (AKA The Atomic Brain), Space Thing, and so many others.
You can watch our found footage from Curious Dr. Humpp here, and our found footage from Space Thing here.