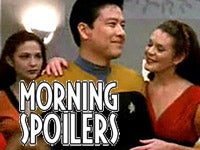 Fans may have guessed which role Kat Dennings plays in Thor, and Cameron talks Avatar. Meanwhile there's an iconic new Iron Man image. Plus, clips from The Lovely Bones and Chuck, an image from Tennant's last hurrah, and Zombieland news.

Thor
Although initial speculation had Kat Dennings playing the Enchantress, some folks think it's more likely that she'll be playing college student Marcy Lewis based on the previously mentioned casting call:
[MARCY LEWIS] (20) Is a college student. Aloof, jaded beyond her years, she thought her internship with scientist Kate Spelling would be an easy 6 college credits. However, she's been stuck for months in this small New Mexico town and relegated to a wide range of unglamorous activities. Kate has been particularly hard on Marcy, making it her personal project to see that Marcy lives up to her potential. Marcy deals with her situation both by using subtle irony and by being an overt wiseass.
After all, Dennings is known for playing overt wiseasses. [Cinema Blend]
Iron Man
The latest issue of Empire Magazine has our hero on the cover. It looks like the new Iron Man is essentially the same as the old Iron Man. [via Cinema Blend]
Avatar
We get another good look at Pandora in CNN's feature on the film. [CNN]
And, in case you didn't get enough of him on 60 Minutes, CNN does an interview with James Cameron. [CNN]
Zoë Saldana says that to prepare for the role of Neytiri, she had to study wushu, a Shaolin kung fu that bases its stances on wild animals. [Details]
The Wolfman
The latest behind-the-scenes featurette plays on our nostalgia for old Universal horror flicks. [via Cinema Blend]
The Hobbit
Peter Jackson says that the studio has seen the first script for Guillermo del Toro's The Hobbit, and they're happy with what they've seen so far. [/Film]
Zombieland 2
Sony is very interested in making a sequel to the hit zombie comedy, and it looks like we'll see it in 3D, with zombies, weapons, and teeth flying around the screen. [Cinema Blend]
The Lovely Bones
Two new clips from Peter Jackson's heavenly movie introduce us to the soon-to-be-murdered Susie Salmon and the man who kills her. [via Collider]
Doctor Who
The TV magazines take a quick look at David Tennant's last episode. [Blogtor Who]
More significantly, we get a fresh image from "The End of Time." Is this one of Tennant's final scenes with the TARDIS? And notice the book Tennant is holding — Finding The Future by Joshua Naismith. You might recall the bus in "Planet Of The Dead" had ads that mentioned Naismith's telecommunications company, Neon by Naismith. Naismith turns up as a character in "The End Of Time." [Den of Geek]