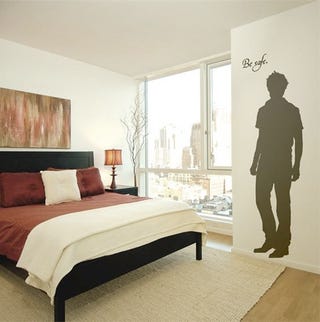 Edward Reminds You To "Be Safe" In Bed


Get a shadowy Edward Silhouette wall decal to stand guard over your bed and remind you all that you shouldn't have sex until you're married and it kills you — or ride dirt bikes. It's $60, but think of it this way: it's an investment in your sex life. Contraceptives are expensive, but this wall decal will keep everyone out of your bedroom for years.
Share The Dream Together Sheets
Surround yourself with vampire love, hearts, and shame. Available at ebay.


Go Green With Twilight

Now you can be sparkly and Green. Team Jacob And Team Edward water bottles, sold at a fast food joint. Hypocrisy, thy name is Edward!
Smell Like Your Favorite New Moon Character
Vampire and Werewolf body lotions, soaps and oils. Poor Alice: her trademark scent is described as "spirited" while Edward is "intoxicating" and Bella is "irresistible." Anyone else wishing Jacob's smelled like wet dog?
Twilight Bed Crown

Live in your own moody death shroud, for a mere $14.00.


Twilight Checkbook Cover

This might be a really clever joke, since Twilight is one of the biggest cash cows in history — but we have a feeling there's no sardonic wit involved in this Twilight checkbook cover.
Bella's Womb

Well, it was bound to happen, someone was bound to make a felt version of Bella Swan's womb... wait WHAT. HER WOMB? SOMEONE FELTED HER WOMB? WITH THE MUTATED BLOOD-CRAVING ADULT BABY RENESMEE INSIDE? TELL US WHY. WHAT DO YOU DO WITH THIS??


Twilight Mosaic Table

Maybe Joseph Fiennes would want to decorate his back patio with this. Ha ha ha ha ha it's a FlashForward joke. But seriously, he probably would want this exquisitely crafted piece of furniture.


My Mommy's a "Bella" Onesie

If your mommy really is a "Bella", that means you are a demon spawn whose father had to rip through your mommy's stomach with his vampire teeth to release you from her womb. You also will grow abnormally fast, be a child forever, and have a totally consensual love affair with a werewolf 17 years your senior. So that's good.


Twilight Converse

Better not scuff these up, y'all. There is no greater art form than puffy paint-decorated Chucks.
Bella's St. Jude Bracelet

Bella's St. Jude bracelet from Hot Topic keeps the apocryphal apostle close to your heart, but we have no idea why - THIS IS NOT IN THE BOOK; THIS IS NOT CANON, PEOPLE.


DuWop Twilight Venom

Not for the faint of heart, this lip venom lets "the alchemy transcend." (What's that mean, anyway?)

Oh well — it will empower you to take fate into your own hands and find your own sparkly vamp lover! Or just, you know, make your lips shiny. Either way - a win!


Bella's Wedding Ring

Yes you guys. You too can rush into a teen marriage prematurely, so that you can have sex without remorse. And have a demon grow in your uterus. And name her Renesmee. All because of this heavenly bauble.


Twilight Pillow
Apparently MS Paint is still the preferred mode of digital creativity in the wonderful world of Stephenie Meyer, so here is an artfully designed pillow featuring a lamb jumping off a cliff. IT'S A METAPHOR. For... Twilight girls with suicidal urges after their boyfriends break up with them. It's beautiful.


Golden Contacts

Fangs are so passé, everyone knows that eye color are the real indicator of a propensity for blood sucking and sex-abstaining.
Twi Shower
Nothing says "early morning heart attack" quite like a greeting from a giant, pissed off, floating vampire head in your bathroom. It's the Twilight shower curtain, and it's only $60.


Wolf Pack Packaging Tape

Now you can give your gifts a Wolf Pack tattoo when you wrap and send them! Not to mention the hours of entertainment you'll get out of "giving" some poor unsuspecting boy a tape tattoo ("I promise it won't hurt to take off!") . Available at the Twilight center for entertainment joy, Hot Topic.


Salt & Vampire Pringles

Now you don't need to continue stalking R-Patz to find out that vampires apparently taste exactly like vinegar and are in fact used as a substitute for it. Just try these limited edition Pringles!

Hey, if vamps can eat us, why not the other way around?


Cullen Crest bra

The jury's still out on whether or not this one is real, but if so, you had better be a well endowed girl who doesn't mind showing off that space where cleavage usually goes. If you're good with that, then show off this crest of a family you'll never belong to! Because they're fake! And not real! HEAR ME? IT'S A MOVIE, PEOPLE.


TwiCrotch: Edward Panties

I'm sure the vamp facing panties we introduced you to a few weeks ago are already high on your wish list, but we definitely wanted to remind you of the awesomeness of them. I mean, who doesn't need panties where the crotch faces INSIDE. Yeah, mull that one over, fans.