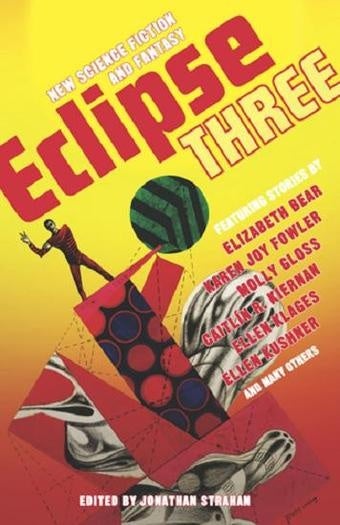 If you believe in reading short fiction for pleasure, you're condemned to frequent disappointment. Most short fiction, even the good stuff, is... laborious. So when reading the anthology Eclipse Three, you may be startled at the unexpected sensation of enjoyment.
Oh, and here's a spoiler warning, although I'll try not to spoil anything too much.
Eclipse Three should be required reading among anyone who wants to write short stories — or, for that matter, among anybody who still clings to the hope that short fiction can be enriching. The storytelling in this volume is, for the most part, both polished and bumpy — that is, it gives you the assurance from the first sentence that you're in the hands of a storyteller who knows what s/he is doing, but it also contains lots of irregularities and odd surprises. These are almost all stories by people who know how to set up, and subvert, expectations without seeming manipulative or crass.
I had high hopes for Eclipse Three already — the first two volumes from editor Jonathan Strahan were superb (you can read my review of volume two here.) And the list of contributors for the third volume is pretty awe-inspiring, including Karen Joy Fowler, Peter S. Beagle, Maureen McHugh, Caitlín R. Kiernan, Jeffrey Ford, Nicola Griffith and Paul Di Filippo. (Not to mention a lovely, previously unpublished cover by the late Richard Powers.)