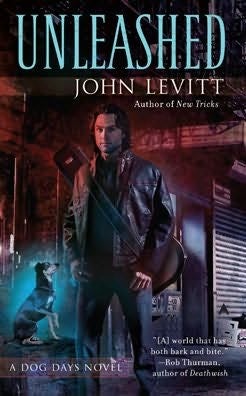 Forthcoming urban fantasy Unleashed (Ace) by John Levitt is the sequel to Dog Days and New Tricks. It follows the exploits of a spell-casting jazz guitarist and his magic doggie. Well, sort of a doggie.
The blend of urban fantasy and detective fiction seems like a sure-fire win. We can seen the modern roots of both in none other than Edgar Allen Poe. There are early examples of the Occult Detective such as Professor Flaxman-Low or the hard to find Victor Iff stories by Aleister Crowley. The type shows up often in TV, comics, and books; the scruffy-looking rugged individualist — a wizard for hire, freelance exorcist, or just a jumped-up London street punk with a pack of Silk Cuts and a noggin full of of Arcane Lore.
I've often been let down by these paranormal investigators in novels. Glenn Cook, Jim Butcher, and Simon R. Green have written very popular series of this type but the appeal is of a the tongue-in-cheek, over-the-top variety. It can be fun, addictive but really just popcorn fare. Only Mike Carey's Felix Castor series has ever made me go, "wow, this is some good writing!" Even with some "surprise" twists that I could see coming in the first third of the book, Carey approaches the story like a hard-boiled thriller of the first water, not a parody. While not yet of this calibre, John Levitt's Dog Days series combines a gritty street sense with a realistic use of magic — for a given value of reality, of course.
As we learned from this year's World Fantasy Con, a world where the supernatural is real and commonplace is going to be very different from the one we know. It's ridiculous to assume that, oh let's say St. Louis, would be recognizable with demons and vampires running around openly. There may be subcultures that think they are underground and hidden (BDSM, Goths, Accordion Players) but the truth is the general population is just trying hard to ignore them. I just don't buy that actual wizards and the like could remain hidden from the rest of society. A common conceit in these contemporary urban fantasy worlds is that all the magical types have agreed to keep their presence hidden from mere mortals. This is because, umm... peasants with pitchforks and torches will tax them out of existence? I'm a bit fuzzy on that part. To keep everybody in line there's usually some ancient organization imaginatively called the Watchers, or The Council of Elders.