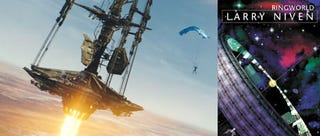 Movies may thrill us with their huge ideas and set pieces, but you always know that anything a movie did, a novel did it first... and better. If you liked these dozen recent movies, here are some books you'll love.

If you liked Star Trek... And who didn't like J.J. Abrams' breezy reinvention of the 1960s space adventure show, focusing more on the coming-of-age of Kirk and Spock, and their journey from rivals to friends? Anarcho-syndicalists, that's who.
...You'll Love Ringworld by Larry Niven. The defining "big object in space" novel, Niven sees your scary Romulan drilling platform and raises you a huge ring-shaped world orbiting a star, with "shadow squares" to provide a day/night cycle, and many weird ecosystems and cultures thriving on it. And if you enjoy that, delve into more classic space opera by Heinlein, Clarke, E.E. "Doc" Smith, David Weber and Lois McMaster Bujold.
If you liked Wolverine... Maybe you enjoyed the way the latest X-Men spinoff used the experiences of a lonely mutant to talk about the ravages of war. Maybe you just liked the purer distillations of mutant angst and feeling like an outsider in non-mutant society. Or perhaps you just liked the sexy mayhem.
...You'll love Santa Olivia by Jacqueline Carey. The tale of a lonely mutant in a town on the U.S.-Mexico border, this novel's young female version of Wolverine named Loup blew us away. She's been genetically engineered not to feel fear, and she becomes her town's secret superhero.