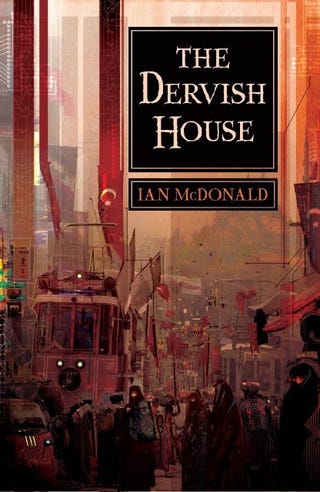 You've got a list of books to read today, but what will you be yearning to read next year? We've picked out 20 scifi and contemporary fantasy books coming out next year that have us filled with excitement.
Many publishers haven't firmed up their winter releases for next year, so most of these books are coming in spring and summer 2010. Keep on the lookout for them!
The Dervish House, by Ian McDonald (Pyr)
The author of several smart, politically-savvy tales of the near future, McDonald is back with this story of nanotech set in Istanbul:
In the sleepy Istanbul district of Eskiköy stands the former whirling dervish house of Adem Dede. Over the space of five days of an Istanbul heatwave, six lives weave a story of corporate wheeling and dealing, Islamic mysticism, political and economic intrigue, ancient Ottoman mysteries, a terrifying new terrorist threat, and a nanotechnology with the potential to transform every human on the planet.
A tale of terrorism and outlaw science from the guy who penned Brasyl and River of Gods? Hell yeah.
Kraken, by China Miéville (Ballantine)
Miéville plunged us into magical noir realism with this year's The City & The City, but promises to return to a more scifi/fantasy world with Kraken. The author is so spoiler-averse that very little is known about this book, other than the auspicious title. Given how brilliantly he depicted sea monsters in The Scar, I think we're in for a treat with this one. And even if the title turns out to be entirely misleading, I'm still along for the ride.
Running With the Pack, edited by Ekaterina Sedia (Prime)
We were crazy about Sedia's recent novel The Alchemy of Stone, about a clockwork cyborg caught up in a workers' revolution, and we weren't the only ones. Josh Friedman, creator of The Sarah Connor Chronicles, said the book dealt with a lot of themes he was trying to get at in his cyborg-centric series. Sedia is back next year with this anthology about (yes!) contemporary werewolves. Includes stories from Carrie Vaughn, Laura Anne Gilman, and C.E. Murphy.
For the Win, by Cory Doctorow (Tor)
The prolific Doctorow can't let a year go by without blowing our minds with a new tale about high tech rebels who commit acts of subversion in the most unexpected - and profound - of ways. Doctorow spent time in China last year researching For the Win, a young adult story about gamers in the East.
The Restoration Game, by Ken MacLeod (Orbit)
One of my personal favorite authors, MacLeod is famous for combining detailed political futurism with intriguing science. In his recent The Night Sessions, for example, evangelical Christian robot terrorists fight a battle on a technically-accurate space elevator. Wow. According to the publisher, here's a quick description of The Restoration Game:
There is no such place as Krassnia. Lucy Stone should know - she was born there. In that tiny, troubled region of the former Soviet Union, revolution is brewing. Its organisers need a safe place to meet, and where better than the virtual spaces of an online game? Lucy, who works for a start-up games company in Edinburgh, has a project that almost seems made for the job: a game inspired by The Krassniad: an epic folk tale concocted by Lucy's mother Amanda, who studied there in the 1980s. Lucy knows Amanda is a spook. She knows her great-grandmother Eugenie also visited the country in the '30s, and met the man who originally collected Krassnian folklore, and who perished in Stalin's terror. As Lucy digs up details about her birthplace to slot into the game, she finds the open secrets of her family's past, the darker secrets of Krassnia's past - and hints about the crucial role she is destined to play in The Restoration Game ...
Virtual histories, virtual worlds, and virtual nation-states? Count me in.
Digital Domains, edited by Ellen Datlow (Prime)
This anthology brings together two legends of science fiction: the late, great OMNI magazine, and its science fiction editor Ellen Datlow. OMNI, a science and futurism magazine whose format inspired io9, published some of the greatest, most experimental science fiction of the 1970s, 80s and 90s. Thanks to Datlow's keen eye for talent, the magazine always challenged its readers with stories that went beyond the ordinary. In Digital Domains she's collected her favorite stories from her years at OMNI, along with two other magazines she worked on, Event Horizon and SCIFICTION, and we can't wait to tear through them.
Geosynchron, by David Louis Edelman (Pyr)
This is the third novel in Edelman's crazy-brilliant series about nano-enhancement and corporate culture, which began with Infoquake and Multireal. In a world where the "multireal" tech allows people to see multiple versions of their futures and pick between them, what happens next? Anyone who read the first two books in this "Jump 225 Trilogy" is basically waiting on tenderhooks to find out.