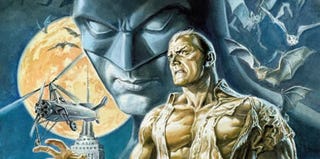 Hope you've been saving up your pennies for this week's comic haul: There's an impressive amount of new releases that you'll want to take home and cherish for at least the next seven days. Yes, these are Comics We Crave.
Let's start with Electropolis, the new Dark Horse collection of Dean Motter's Retrofuture Deco Noir story (Preview here). Filled with robot detectives, femme fatales and the power of electricity, it's just one of many off-beat genre books appearing at comic book stores this week.
And if Electropolis' pulp fiction is your thing, then maybe the Batman/Doc Savage Special (Dark Knight Detective versus Man of Bronze!) will also float your boat, after all. Or maybe Sky Doll: Doll Factory, a collection of unseen material from the awesome European strip Sky Doll, will provide your reading material for the next few days.
But if you prefer your heroines a little less suggestible than Sky Doll, the first issue of Tank Girl: Skidmarks is probably more your speed. Unsurprisingly, we'd also point you in the direction of the debut of Locke & Key: Crown of Shadows, but we're biased.