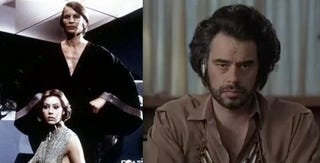 Love Gentlemen Broncos or hate it, you can not deny that Jemaine Clement's insane take on science-fiction writer Ronald Chevalier is hilarious. But what if we told you this guy actually exists? Meet the real-life inspiration behind the icon.
Ronald Chevalier is a mix of three different, amazing, real life people. First off, our favorite little Chevalier-ism has to his advice when creating a character. "Just add Anus and it becomes magical." Turns out the person behind this theory actually exists and he's making science-fiction films. According to Jared Hess at the NYC premiere for Broncos...
That's borrowed from a buddy of mine that I went to film school with, named Steve Groo. He's made like a hundred movies that are mostly science-fiction related. You can check out his Resident Evil trailer online. Anyway but in his films he has really great fantasy names and one day I said, "Steve how do you come up with such killer names for your characters in your films?" And he said, "Well that's easy, you just take a name like Nebakanezer and I change that to a name for a King Elf, Nebakaroneous. It's very easy." He had other theories like if you're going to name a barbarian use AXX at the end of each name. And I talked to him before to make sure he was cool with using it in the film. But I have to give him a shout out because that's not for me.
The Anus Method:


But not only that, if you've seen the film it's pretty clear that the shadow videos and super small budget trailer-making company is inspired by the film production company Steve Groo's contributes to Wolf Productions. Here's a taste below, it's just, well brilliant and awesome and if anything hopefully shows Jared Hess's roots and how Gentlemen Broncos is more of an homage to his friends and people he's met and less, Bully Porn.