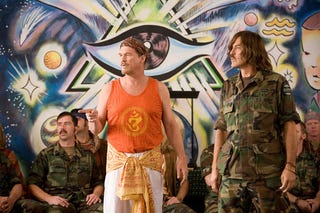 The Men Who Stare At Goats transports you from the Vietnam War to present-day Iraq, that journey through time succeeds largely thanks to Jeff Bridges and George Clooney. We asked director Grant Heslov how they pulled it off. Minor spoilers...
In Men Who Stare At Goats, in theaters today, Bridges plays Bill Django, a Vietnam veteran who founds a group of "psychic soldiers," who are warrior-monks steeped in the counterculture. And the film follows him from the 1970s to the present day. Meanwhile, George Clooney is Lyn Cassady, the best of Django's psychic soldiers, who takes a young reporter, played by Ewan McGregor, under his wing.
Both Bridges and Clooney manage to play their characters in the 1970s (in Bridges' case) and the 1980s (for both actors), as well as the present day. It gives you hope that Bridges really will be able to pull off his role as two different Flynns, an aged version and an ageless copy, in Tron Legacy.