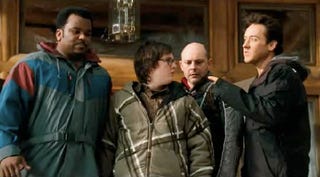 Hot Tub Time Machine has a killer cast, including John Cusack, Chevy Chase, and Rob Corddry, and a weird premise about traveling back to your R-rated party-boy heyday. The one thing it didn't have, according to Cusack? A script.
Even though John Cusack tried to be pretty mum on the details, the actor (who's also a producer) filled us in exclusively about the movie's status, and just how R-rated this film will be.
Let's talk Hot Tub Time Machine. Where's the film at right now?
I won't give anything away, but we are cutting the film right now. But it's about four guys who go back to the 1980s.
From what we saw in the trailer it seems like a pure group comedy. Who is your character in that group? What is your role?