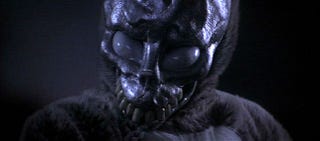 With The Box hitting theaters this weekend, we're about to get another dose of director Richard Kelly's evolving mythos, which began with Donnie Darko and continued with Southland Tales. So what is Kelly's Darko Mythos?
When a creator invents a fairly consistent set of rules, images, and characters in his or her fiction, often they get referred to collectively as a "mythos" (like the Cthulhu Mythos) or a "verse" (like the Whedonverse). Kelly has said explicitly that there are interconnected ideas underpinning his cult hit Donnie Darko, weirdo political epic Southland Tales, and forthcoming movie The Box (opening tomorrow). Kelly's movies are deliberately crafted to remain open to many interpretations. But there are a few consistent themes that form the shadowy pillars of what I've come to think of as the Darko Mythos.
time travel
In Donnie Darko, the half-mad protagonist Donnie is given a book called The Philosophy of Time Travel by one of his teachers. Reading it, he realizes that he's accidentally entered a "tangent universe" created by a rift or portal in space-time. Tangent universes diverge from reality very dramatically, are extremely unstable, and eventually come to an abrupt end. It appears that Donnie may have entered the tangent universe when a jet engine crashes into his bedroom while he's out sleepwalking with shady figure in a bunny suit named Frank (who turns out to be a figure from Donnie's future). Donnie lives in the tangent universe for a month, then travels back in time to the moment when the jet engine crashes into his room - only this time, he's in the bed. His death allows several other characters to live, and it's possible that they remember the tangent universe in dreams.
Critics have suggested that Southland Tales may also be set in a tangent universe, because the graphic novels accompanying the film describe several of the characters traveling through space-time rifts. The movie begins with two characters, Roland and Boxer, driving through a rift and traveling back in time for an hour. Southland Tales also tells the story of an alternate United States which has been attacked with nukes and hit by an energy crisis nearly as dire as peak oil. It's possible this entire vision of the United States is a tangent universe, which is destroyed at the end of the movie when the twins Ronald and Roland Tavener rise above Los Angeles in a floating ice cream truck and touch their hands together.
Time travel, in the Darko Mythos, is associated with relatively short-lived, parallel worlds headed for an apocalypse.
water flows through everyone and everything
As Kelly told us earlier today, he includes a lot of water imagery in his work because he thinks it represents a force that connects humans with each other and the water-logged Earth itself. In Donnie Darko, many of the characters (including Donnie) sprout long, watery tentacles that emerge from their chests. These watery appendages are connected with the way people move through time, and they are sometimes depicted as tunnels. You could call them souls, or simply a representation of the water that every human - no matter how despised or despicable - carries within them.