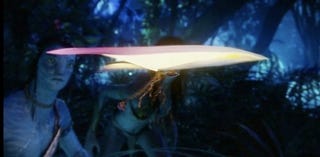 Hot creature 3D action, or at least let's assume this thing will come flying out at yah.

Hammerhead baby, want to ride it now.

We have sharp teeth...seeeeeee.

Hexxus was here.

Listen to the noise this fella makes in the video, it's adorable!

Channeling Dilophosaurus.

Kitty!

You'll have to wash that off before supper.

Lovely moons.

Congo tribute?

Fancy new outfits!

Say what you will about the blue people, the planet itself it lovely.


Sigourney Weaver gives good Avatar.

Best new Avatar character?

Really, this is the wig the bazillion dollar budget provided?