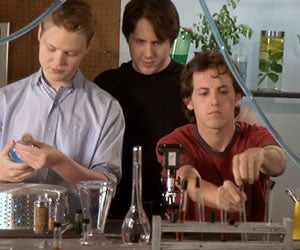 Who knew that Dr. Horrible would turn out to be such a fruitful franchise? In addition to the official Sing-Along Blog, soundtrack and spin-off comics, there's now an unauthorized prequel on its way. And, yes, this one has songs too.
The fan-made Horrible Turn describes its legal status in the following, appropriately Whedonesque way:
Any similarity to the characters created by Joss Whedon is, like, totally a coincidence. And by 'coincidence' we mean accidental. And by 'accidental' we mean fortunate. And by 'fortunate' we mean intentional. And by 'intentional' we mean unauthorized.
Horrible Turn trailer from Horrible Turn on Vimeo.
Does this mean the movie will live up to its inspiration? We only have to wait until November 10th to find out.
[Horrible Turn] (Via Whedonesque)