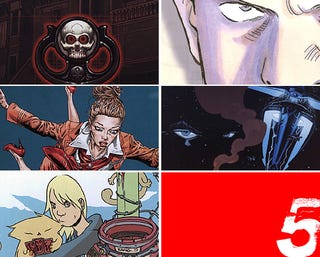 You're not new to comics, but you've read all the big names and you're not sure where to go next. Luckily, we're here with five suggestions to make your November bookshelf that little bit heavier.
Magical Realism
Air
What It's About: At its heart, Air is a love story between Blythe - a flight attendant who's afraid of flying - and Zayn, who is as much a mystery to himself as everyone else. But Air is much, much weirder, and more interesting, than that: For one thing, Blythe is a natural hyperpraxis pilot, which means that she can travel to places, times and ideas that don't, theoretically, exist... a skill she's honing with the help of Amelia Earhart, who by the way is still alive. For another, there's a war brewing between terrorists over control of the skies, and for a third, certain people may be very interested in that whole "hyperpraxis" thing. A series that's gentle, human, full of wonder and emotion, and at times just beautiful, Air is unlike most comics - and television shows and movies, for that matter - out there.
Where To Start: Two collections are available, Letters From Lost Countries and Flying Machine. Pick both up; the series is great, but the first collection (Letters) stops at a frustratingly bad point, and you need to read the second to fully appreciate what's going on.
Click here for a preview of Air.