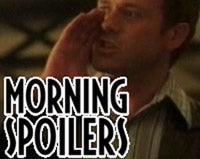 Thor gets a famous father, and Charlize Theron is really headed to Mad Max. Also, many new Avatar images, a clip from Doctor Who, and a key character joins True Blood. Plus, Powers, Lost, Fringe, V, SGU, and New Moon.

Thor
Bad news for Brian Blessed fans: Anthony Hopkins is in negotiations to play Odin, Thor's father and the ruler of Asgard. [The Hollywood Reporter]
Avatar
We posted an international version of the official trailer the other night, but here is the high quality version:
The official Avatar website has launched with a set of high quality images. A few we've seen before, but most are new:
Mad Max: Fury Road
We told you earlier that Charlize Theron was being considered as the lead for the latest Mad Max movie. She'll be co-starring with Jean-Luc Picard's clone, Tom Hardy. [Cinema Blend]
New Moon
Tonight, MTV will air its special Ulalume: Howling at New Moon, which will include a new clip from New Moon. Naturally, MTV already has said clip and shared a few screen grabs from the clip. [MTV Movies Blog]
Doctor Who
The Tenth Doctor flees monsters with Super Soaker hands in the latest clip from Waters of Mars:
True Blood
Fans of the Sookie Stackhouse Mysteries have wondered whether the werewolf Alcide Herveaux would appear next season, and Alan Ball has finally answered them. Alcide will appear, probably by the third episode, although he hasn't been cast yet. Alcide will already come into the searies with a love interest, a very bad woman named Debbie Pelt. We won't be seeing a Sookie-Bill wedding this season, but, while the couple will have some rough patches, their connection won't disappear. As for Eric, he lost some hair last season and this season he'll lose his clothes. We'll see Eric nearly naked in the season premiere. Everyone else is exploring their identities this season. We already know Sam is seeking out his biological family, but we'll also see Sookie closer to understanding why she has supernatural abilities and Jason doesn't. Plus, Jessica will explore her vampirism and experiences a dangerous identity crisis. [E!]
Powers
Brian Bendis has an update on the live action adaptation of his comic about police detectives in a superpowered world:
"We're making a cop show with superhero elements to it, not a superhero show with other elements to it," he continued. "It's a cop show-a dark one, hopefully in the same vein as 'The Shield'-and it really seems to be shaping up that way. Fingers crossed for the green light!"
He also says that it will be akin to Dexter in terms of faithfulness to the source material (which is to say, there will be some deviations), but that the first arc will involve Christian Walker and Deena Pilgrim solving the murder of Retro Girl. And the first arc will also set up all the mysteries Walker and the other officers will be solving in the series. [MTV]
Lost
The new promo teaser is up, and, as promised, it contains no new footage. [via Lyly Ford]
Looks like Juliet is indeed dead. Damon Lindelof said the decision to kill her was "brutal," but she did go up with the hydrogen bomb. Of course, on Lost, dead doesn't necessarily mean gone, and we'll see Juliet in a few episodes this season. [NY Mag]
The producers are looking to cast the possibly recurring role of Kendall, a beautiful and intellectual woman in her mid-30s with a sharp wit. She gets caught committing corporate espionage and has to lie her way out. [EW]
Fringe
We get a glimpse of the Observer in the promo for the return of Fringe on November 5th (if the World Series doesn't go to Game Seven). [Fringe Television]
V
With just a few days before the Vs arrive, ABC releases a new promo:
We're going ghost hunting in these images from "The Eternity Trap." [The Doctor Who Image Archive]
And in the 11th and 12th episodes, the two-part serial "The Gift," the crew will face off against the green Slitheen once more. Once the Slitheen have been foiled, however, the Blathereen, rivals of the Slitheen, will appear on the scene to declare piece between the planets. They offer Sarah Jane a civilization-changing gift, one that quickly runs amok. Soon Sarah Jane will be battling for her own son, Luke. Clyde, Rani, and K9 become trapped in a school under siege, London is facing yet another alien threat, and there will be a final showdown in the attic, one that could end someone's life. [Blogtor Who]