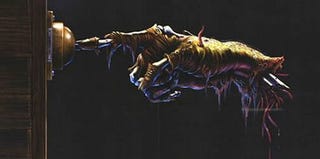 We've all been there before: Dressed up in costumes, ringing the doorbell expecting candy before a multidimensional demon opens the door and devours our souls. Here're some of our favorite Haunted Houses... just so you know which ones to avoid.
Hell House
Here's the first clue that you might not want to go to a particular house looking for treats: If it's called the Hell House. Okay, to be fair, in Richard Matheson's 1971 novel, the house is actually called the Belasco House, but even in the book that should be a clue, considering it was named after a man who performed unspeakable acts of "blasphemy and perversion" in it. Turns out that it wasn't necessarily Ernesto Belasco's fault, though; the house itself corrupts and feeds upon the weaknesses of all who enter. Which is to say: Don't count on candy.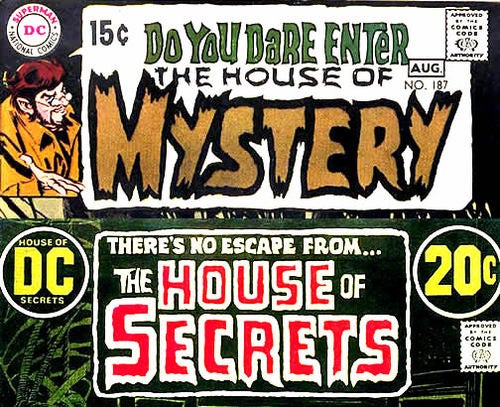 House of Mystery/House of Secrets/Sinister House Of Secret Love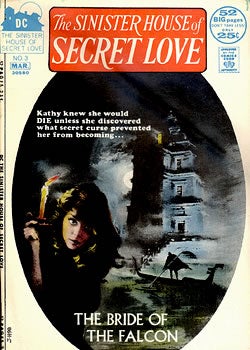 Two of these three houses are probably very familiar to anyone who's read some Sandman at some point. The Houses of Mystery and Secrets were firmly placed in Morpheus' dream realm in that series, along with their owners, Cain and Abel - But both of them, and the little-known third house in the family, existed long before that, as settings for the Crypt Keeper-esque introductions in three horror anthology comics throughout the fifties, sixties and seventies. While both the Houses of Mystery and Secrets have since been revived both in Sandman and their own series (Both focusing as much on the houses as any characters), the poor Sinister House has been left unopened for decades, keeping that love that little bit more Secret. Candy possibilities: Nil for Mystery and Secrets, but don't be too surprised if the Sinister House is so grateful for the visitors that it gives you something after all.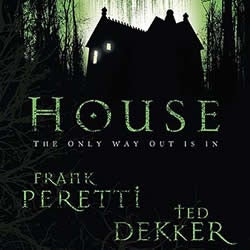 House
No, I'm not getting forgetful in my old age; this 2006 novel shares a name only with the 1986 movie - Well, that and the idea of a Haunted House. But in this "Christian Horror" novel, there's one easy out from this (and any) terror abode: Sacrifice that impresses Jesus. Quite how much he'd be impressed with trick or treating - or the whole Halloween concept in general, for that matter - is open to question, however, so I wouldn't ring that doorbell thinking you've got an easy out, if I were you.