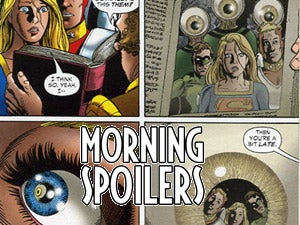 Sarah Jane's getting married, at least until the Tenth Doctor pops in. Brian Bendis talks integrating supernatural Thor with the other Avengers films. And startling revelations (and a possibly hookup) on Dollhouse. Plus, V, New Moon, Lost, Paul, and Caprica.

Thor and The Avengers
Jon Favreau might have wondered how the supernatural aspects of Thor would blend with the more scifi bits of the other Avengers movies, but Brian Bendis isn't worried:
"My advice is, has been, and will be, that much like the comics, you look at movies like the 'Oceans' movies that have all these different flavors, you put the flavors together and you cook 'em," Bendis told MTV News. "It absolutely can be done."
Like Joe Quesada, Bendis has read the Captain America script, in addition to the Thor and Iron Man 2 scripts. And he's pleased, saying they go somewhere better and different from where the comics have gone. [MTV]
Paul
To research their film about an alien and a pair of friends who tour America's famous UFO sites, Simon Pegg and Nick Frost did their own UFO tour, starting in LA and ending in Colorado. Although most of the dialogue for the alien (voiced by Seth Rogen) has been recorded, it's going to end up being tweaked and re-recorded. Why? The pair were pushed to make an R-rated film, and now Rogen's dialogue needs to be raunchier. Jason Bateman's character — an agent chasing the group — is named Lorenzo Zoil, a goof on the drama Lorenzo's Oil. [SCI FI Wire]
New Moon
Jacob and Edward face down in the new TV Spot:
Lost
The crew was filming near a school in Hawaii yesterday. Fast fingered tweeters nabbed photos of Matthew Fox and described the scene: Jack drives down the street in his old Jeep, and runs into a school called Saint Mary's Academy (is this the same as Central Intermediate School from the other day, or a different school?) in quite a hurry. [Dark UFO]