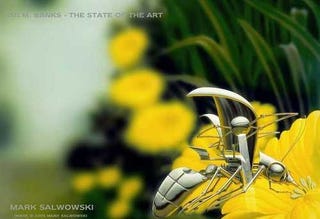 Iain M. Banks' Culture novels helped energize a whole new movement in vast, thrilling space opera. But the news of a big-screen Culture adaptation makes me nervous. Will the celluloid version of the Culture lose its Minds? Spoilers below.
Reading the news that Iain M. Banks' story "A Gift From The Culture" is being adapted by the writers/directors of the "psychobilly" thriller White Lightnin', I begin to understand why some people are such purists about seeing their favorite books adapted to the big screen. Not that that story, in itself, is my favorite — I don't think I've read it at all. It's in the anthology The Space Opera Renaissance, edited by David G. Hartwell and Kathryn Cramer, which I never managed to pick up a copy of. (And generally, Banks' short fiction hasn't worked for me as well as his novels — I read his story collection State Of The Art, and was non-plussed.)
But Banks' books, and especially his Culture novels, loom so large in my science-fiction cosmology that I'm terrified that a movie version will tone down the strangeness of the Culture. Consider Phlebas, the first Culture book, was also the first book I'd ever read which contained an interstellar society so advanced, it was almost unimaginable — and yet still managed to spin out a story that was exciting and made sense to my puny Human 1.0 brain. It would be a shame if the Culture movie left out, or toned down, the Culture's "Minds," the super-powerful A.I.s that do a lot of the heavy lifting in this super-society. Or the Culture's propensity for extreme body-modification, among other things.
(We posted a great primer to the Culture last year, which you can read here.)