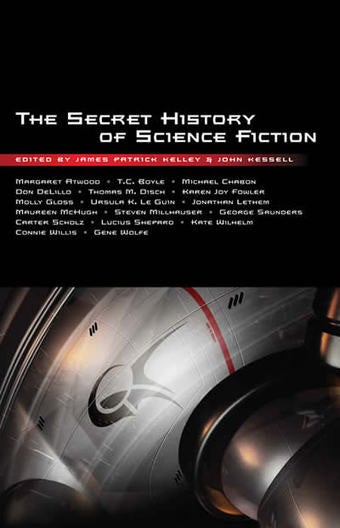 Tachyon Publications has a new anthology out called The Secret History of Science Fiction. It centers around a subject that has sparked countless debates and rants among Science Fiction fans. And no, it's not River Tam vs. James T. Kirk.
Editors James Patrick Kelly and John Kessel have collected these nineteen stories to explore the supposed divide between mainstream literature and speculative fiction. They've written an eye-opening and informative introduction as well as compiled dozens of quotes by the individual authors on the subject of Sci-Fi vs. Literary Fiction or"Li-Fi"*. Writers and fans in the field have long complained of being marginalized by the general public and even more so by the literary elite. How did this happen and who's to blame? Does it even freakin' matter any more?
Before Hugo Gernsback there was no separate science fiction genre (or "scientificton" as Gernsback called it, Forrest Ackerman popularized the current two-word term). Writers from Mary Shelly, Hawthorne, Melville, Poe, and Twain used themes of the fantastic in their works that are still considered classics of Literature today. Jules Verne and H.G. Wells explored advancements in contemporary science and technology and were lauded by audiences around the globe inspiring millions.
As Gernsback and later, John W. Campbell and others codified early science fiction traditions they were deeply mired in the pulp magazine traditions. Fun stuff to be sure, but the gee-whiz boys' adventure stuff was very lacking in well-rounded characters and well-crafted plotting. It has been pointed out recently that even notable award winners of the 1950s weren't really turning out timeless prose. Let's face it, the SF Ghetto was constructed from the inside out and zealously maintained from within.