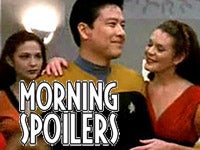 Major Thor subplots revealed! Plus more Doctor Who set pics, including a clip from filming. Discover one Lost character's secret importance, and a few more details on Avatar. Plus: New Moon, The Lovely Bones, Fringe, Smallville, and Supernatural.

Avatar
Producer Jon Landau says that the character Jake Sully begins as a more vulnerable and sensitive character, and gradual becomes the sort of person who can lead a nation into battle. He also says that we won't see any Na'Vi or Avatar sex, just romance. [IGN]
Thor
The casting call has been put out for Marcy Lewis:
(20) Is a college student. Aloof, jaded beyond her years, she thought her internship with scientist Kate Spelling would be an easy 6 college credits. However, she's been stuck for months in this small New Mexico town and relegated to a wide range of unglamorous activities. Kate has been particularly hard on Marcy, making it her personal project to see that Marcy lives up to her potential. Marcy deals with her situation both by using subtle irony and by being an overt wiseass.
Doctor Who
Yesterday, we told you about the sonic screwdriver explodey scene, and the latest news is about what takes place before that. The TARDIS crashes into a garden, destroys a garden shed, and skids to its resting place. At some point, the smoke comes pouring out of the TARDIS, and Amy is dragging the Doctor away, crying "Come on!" (she still in her policewoman outfit and he in David Tennant's suit). He keeps trying to escape her grasp, screams "I must save her!"