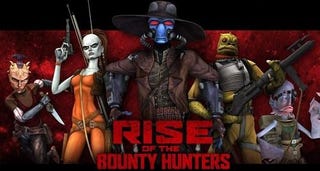 Clone Wars returns tonight with a season that promises to be far darker than the last. We've seen several episodes from the new season and talked to the creators and cast about the new faces and moral shades of gray.
The Bounty Hunters
Last season, we met Cad Bane, the blue-skinned bounty hunter working for Ziro the Hutt. And this season, the bounty hunters will take on a more central role, with Cad Bane and his fellows joining forces with the Separatists (for a price, of course) against the Jedi. Clone Wars creator Dave Filoni says the bounty hunters have given them an opportunity to get away from the clones vs. droids formula, and give Anakin, Ahsoka, and the rest of the Jedi a more colorful set of foes.
In tonight's two-part episode, Rise of the Bounty Hunters, we'll see plenty of Cad Bane when the bounty hunter infiltrates the Jedi Temple to steal a Holocron. You can also check out the concept art of Bane and the other bounty hunters we posted last week.