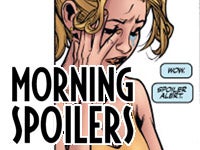 The rumored Superman director drops a shocking hint about Metropolis, and James Cameron's producer talks Avatar 2. Glee's Jane Lynch talks Paul. Even more Lost characters come back. Plus Justice League: Crisis On Two Earths, Fringe, FlashForward and Stargate spoilers!

Superman:
For the umpteenth time, James McTeigue, rumored director of the next Superman film, said that while he's had "some discussions" with Warner Bros., the movie isn't happening any time soon. But as always, McTeigue was happy to talk about what his approach would be if he did take on Big Blue:
Superman is probably ripe for a bit of a change up. I think society has changed around the core idea of what Superman was... And I'm not saying you do the ubiquitous dark Superman, I'm not saying that… I'm just saying that I think there are some things that you could excise from the Superman mythology that people would get into it, if you took the world that he was in and changed that a bit, and maybe even project that into the future a bit. I think you don't really have to play into the origin story anymore. I think there's a whole bunch of things you could do to make that film more alive and exciting again.
So it sounds like McTeigue is backpedaling slightly from the idea he floated a while back, of a darker Superman. But more importantly, it sounds like he wants to put Clark Kent a few years into the future — which might allow for a more science-fictional take on our favorite visitor from space. Color us intrigued. [FirstShowing]