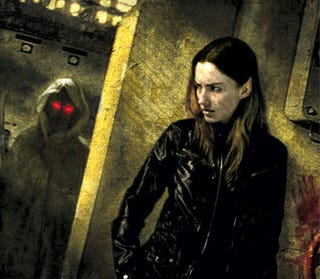 "Someday I'll figure out why everything in Faerie seems to end up in San Francisco," the narrator muses in Rosemary And Rue, Seanan McGuire's debut novel. Whatever the reason, the city throngs with fae... and some of them turn deadly.
Oh, and there are spoilers in this review, mostly for the first third of the book.
Rosemary And Rue is the first book in the October Daye series, about a half-fairy, half-human detective who solves crimes at the intersection between the magic and mundane. At least, that's what happens in this first book, which involves shape shifters, sea witches, the king of cats, and a gun that shoots iron bullets (which are deadly to fairies.) McGuire's version of San Francisco, with fairie kingdoms hidden all over the Bay area and pixies hiding in Golden Gate Park, is genuinely enchanting, especially when she's bringing out the downsides of magic being everywhere. At one point, our hero, October, visits the court of the Faerie Queen, who transforms her T-shirt and jeans into a ballgown — and then doesn't change them back, forcing October to slog through mud and crime scenes wearing an impractical gown that gets increasingly muddy.
We were talking about noir fantasy a while back, and Rosemary And Rue isn't really that noir — it's more like classic urban fantasy with a murder mystery. It's not quite paranoid, dark or morally gray enough to be noir, and McGuire's characters are mostly fundamentally nice, with a few nasty quirks here and there.