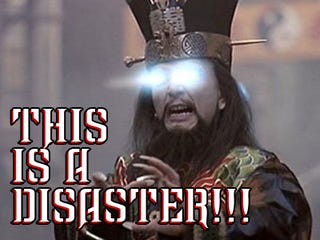 So, I had done a couple of Disasters for you when I woke up Saturday morning to an apartment with no power. So I got some breakfast and went record shopping.
I came back home and what do you know, still no power. But, rather than say "eff it" and go see a movie, I said to myself "Self, how can I still get this done with no Photoshop?" So, I sat down on my couch by the window with a little sketchpad and some pencils and pens and doodled out your disaster for this week. I threw in a couple of Photoshopperies, but for the most part This Is Disaster by Candlelight.


LITERARY ESTABLISHMENT vs SCIENCE FICTION:
You see... this atmosphere of animosity in the book world is why I only watch Michael Bay movies.