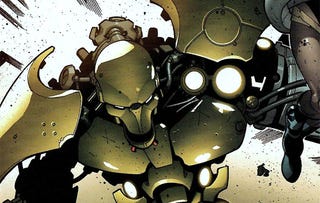 You can't be beautiful and immortal until you abandon your meatsack! Surrogates, opening Friday, shows a culture that's gone over to robot avatars. But here are ten other universes where you could abandon your flesh for a shiny, perfect robo-body.
These are the science-fiction universes where you can transfer your consciousness into a robot body permanently, and wave goodbye to those annoying bones and excretory organs forever. And tomorrow, we'll have a list of the ten best robot bodies you can plug your brain into, and control temporarily.
Note: To some extent, there's some overlap here with the list we did a while ago of people who died and went to cyber-heaven. So we left out a few examples from the earlier list, like Dr. Ira Graves and Juliana Soong in Star Trek: The Next Generation.