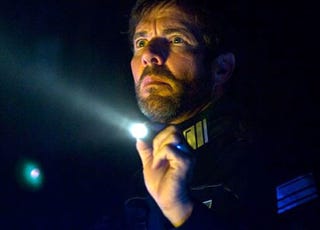 Dennis Quaid has starred in many of our favorite science fiction movies, so we're excited that he's back in deep space with the horror movie Pandorum. He told us about Pandorum's disorientation... and the Enemy Mine you never saw. Spoilers!
In Pandorum, opening this Friday, Quaid plays Payton, one of two space travelers who awake from hypersleep aboard a massive spaceship. (The other one is Bower, played by Ben Foster.) Hypersleep always leaves travelers with total amnesia, so Payton and Bower don't know who they are. Normally, there's supposed to be someone there to help reorient you when you reawaken from hypersleep, but they're on their own. And they're locked in the tiny room they wake up in. The first part of the movie is about their struggle to escape from this room — but once they finally get out, "that's when all hell breaks loose," says Quaid.
Are we ready for the return of space horror? "I sure enough do hope so," says Quaid. "If you have a good story — and this is a great story — a good movie, a fun, exciting movie, the audience will show up." He says Pandorum is "pretty amazing, in that it's part thriller, part horror movie, I guess... it's a myth, asking who are we? Are we who we think we are?"
And even though you've seen weird white creatures attacking our heroes out of the bowels of the spaceship in the trailers and clips, there aren't any aliens in this movie, says Quaid. "The aliens are us."
In the clips we've seen so far, Quaid's character seems like the steady voice of reason, compared with Foster's jumpy, paranoid character. But "that's only what it seems like," says Quaid. "My character is hiding something that even he himself doesn't know." Besides that, all Quaid will say about Payton is, "He's not who he thinks he is, let's put it that way."