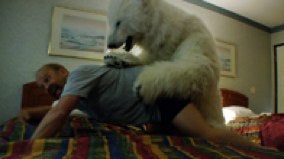 The science-centered Imagine Film Festival is back, bringing boatloads of new shorties and sci-fi minded movies. Plus a new "help help it's under my skin" horror movie, Growth. Embrace the cult!
The Imagine Festival is back in NYC, running from October 15 through the 24th. Last year, the festival brought us the wonderful Sleep Dealer along with director Alex Rivera, and introduced me to two of my favorite shorts, Transgressions and Lone. But here's what I'm excited about this year...
"Wormhole Chasers" trailer from Imagine Science Films on Vimeo.
In Search Of Memory (Trailer) from Imagine Science Films on Vimeo.
"Sizzle: A Global Warming Comedy" Trailer from Imagine Science Films on Vimeo.
Extropy - Trailer from Imagine Science Films on Vimeo.
Quantum Quest
A lot of the films at the festival look good. However, Chris Pine, Samuel L. Jackson, and James Earl Jones' CG Quantum Quest does not. In a distant galaxy, an alien named DAVE had to SPACE SURF across the universe to give a gem ball message and protect the Skynet computer from Terminator 4. The video I found looks totally unfinished, so don't judge it on that. Judge it on the fact that the main character from an alien world is named DAVE. I may actually go see this just out of sheer self-hating curiosity.


We'll keep you updated as the festival gets closer, because there are still many more movies and shorts that we're excited by such as The MisInventions of Milo Weather and Naming Pluto.
Growth
In Non-Festival News, the trailer for Growth is out, looking all sorts of B-movie lovely. Basically, the world is being attacked by slimy under-the-skin parasites so mayhem and skin-cutting ensue. And, why yes! That is the guy from Charmed! And, no! That is not the Diabetes fella.
Poster: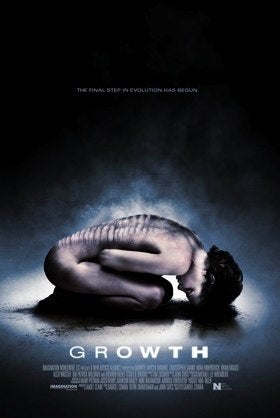 Synopsis:
In 1989, a breakthrough in advanced parasitic research on Cuttyhunk Island, gave scientists a jump in human evolution. Initial tests proved promising as subjects were experiencing heightened physical and mental strength and awareness. But, something in the experiment went horribly wrong and the island mysteriously lost three quarters of its population...

Jamie Akerman fled the outbreak, which took her mothers life, twenty years ago. She now returns with her boyfriend and step brother, to sell the family property. There, they uncover the key to Jamie's disturbing past, and have to fight a new strain of parasite that has emerged, to threaten the island once again.