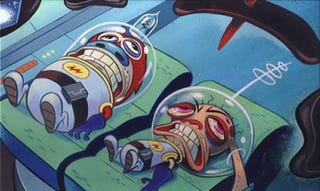 If there's one thing that Pandorum shows us, it's that it's psychologically stressful to be out there in space. Studies have shown the dangers of space madness, but we have to admit: It makes for good entertainment.
"The Last Man On The Planet Moon"
Will Eisner, Jules Feiffer and Wally Wood's August 31st 1952 episode of The Spirit was right in the middle of the Outer Space sequence of stories, but that didn't mean it lost its focus on small vignettes about the common man - In this particular case, about a man whose space madness meant that he hallucinated a world where he was the only man left from his mission, trapped all alone on the Moon. Forward thinking stuff from a period when Buck Rogers and Flash Gordon made space safe for newspaper comics readers.
Solaris
Stanisław Lem's original 1961 novel, that is, not the George Clooney movie. Lem imagined an alien being that prompted psychological responses in humans who tried to contact it, producing a particular strain of space madness - Trauma As Particularly Awkward First Contact. While Lem's novel depicts an unknowable and somewhat disturbing idea of such event, it was soon co-opted into cuddlier forms by...
Dark Star
Suicidal astronauts on a long-term mission who have to talk an intelligent bomb out of exploding, resorting to explaining philosophy because their cryogenically-frozen commander tells them to? No wonder that Lt. Doolittle (spoiler) surrenders to his dream of surfing to oblivion at the end of the movie. Never mind 2001, this was the movie that made a generation realize what space travel could do to your mind.
Red Dwarf
1992's "Quarantine" demonstrated that it wasn't just humans who came down with space madness, when hologram Arnold Rimmer caught a virus that not only drove him quite mad, but finally introduced his latent crossdressing and puppetry tendencies. If only all other space madnesses came with their own Mr. Flibbles.
The Ren and Stimpy Show
Surely the greatest example ever made of what space madness truly is. Oh my God, an ice cream bar!
See if you don't agree for yourself.