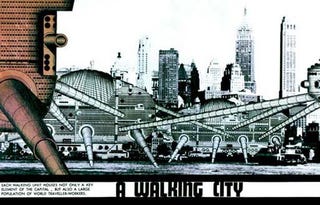 The architecture of science fiction has profoundly changed urban design. When building cities of the future, our best guides may be places like comic book megalopolises Mega-City-1 or Transmet.
In February of this year I gave a talk at webstock in New Zealand, entitled "The Demon-Haunted World" - which investigated past visions of future cities in order to reflect upon work being done currently in the field of 'urban computing'.
In particular I examined the radical work of influential 60's architecture collective Archigram, who I found through my research had coined the term 'social software' back in 1972, 30 years before it was on the lips of Clay Shirky and other internet gurus.
Rather than building, Archigram were perhaps proto-bloggers - publishing a sought-after 'magazine' of images, collage, essays and provocations regularly through the 60s which had an enormous impact on architecture and design around the world, right through to the present day. Archigram have featured before on io9, and I'm sure they will again.