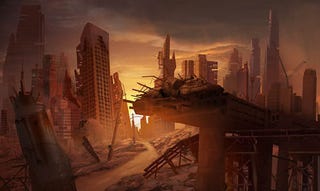 The future of the world is unmistakably urban (UN estimates put 70% of the world's population living in urban areas by 2050), so why do we still expect the worst about cities? Click through for fictional destructions galore.
Last year, humanity crossed the threshold and became more urban than rural, a fact that ultimately may turn out to be better for the planet in the long run (Studies show that the carbon footprints of citizens of New York, London and Barcelona are a half to a third the size of their national averages). Despite this, though, we're still being given movies that promise disasterporn if we don't change the direction in which we're moving. Are we just preconditioned to expect cities to betray us?
After all, if we're not imagining cities growing to envelop everything around them and becoming overcrowded and the perfect place to become lost, then we're imagining cities that devolve/evolve into something else, dystopian prisons, warzones or overrun by mysterious monsters of unknown origin. If we survive the inevitable ape uprising, of course.