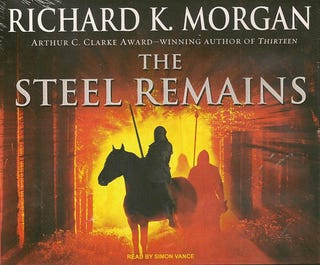 A noir light is shining over fantasy — many of the best fantasy books on the shelves right now feature bloody-minded, morally gray protagonists battling their way through rotten cities and bleak landscapes. Here's why noir is truest urban fantasy.
Many of our favorite fantasy books of the past year or so feature a self-consciously noir tinge. Perhaps the most buzzed-about of these is The Steel Remains by Altered Carbon author Richard K. Morgan — it's gotten an amazing reputation since it came out last January, but if anything the hype understated this book's greatness. Profane, riotous and utterly captivating, The Steel Remains follows three thick-skinned veterans of a terrible war against lizard people, as they investigate the rise of a new supernatural power that threatens to obliterate everything they fought for.
Other recent books in the "noir fantasy" niche include Richard Kadrey's Hollywood revenge saga Sandman Slim (which we reviewed here), China Miéville's weird detective story The City And The City (reviewed here), Elizabeth Bear's supernatural alternate history detective stories collected as New Amsterdam, John Shirley's psychic bounty hunter saga Bleak History, Mike Carey's Felix Castor novels, and io9 contributor Jeff VanderMeer's hardboiled detective novel Finch, plus several others.