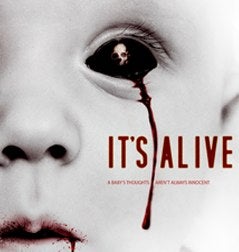 That fanged bloodthirsty baby is back in a remake - Check out the trailer, along with two adorable shorts with kids dancing with robots and running away from zombies.
It's Alive
Bijou Phillips, the curly headed girl from Hostel 2, stars in the straight-to-DVD '70s remake It's Alive. The film is pretty similar to the original in the sense that another woman gives birth to a baby that eats people and also has Mighty Mouse strength. Just one more reason to be afraid of those soft headed rosy-cheeked devils. Here's the new red band trailer from Bloody Disgusting. The DVD will be out October 6th.
Short film Zombies and cigarettes / English subtitle from Rafa Martínez on Vimeo.
Get Robotic! from Eye Tape on Vimeo.