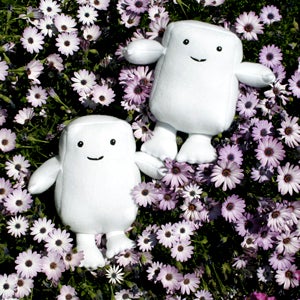 From TARDIS cupcakes to Dalek dresses, the Whovians are one of the most DIY geek subcultures. Take a peek at the craft projects that made us doff our floppy hats in salute. Warning: This post is bigger on the inside.
If you haven't guessed, I love geek craft projects. The only thing I find more adorable than a geek knitting on the bus is a geek knitting a Jayne hat on the bus to wear to the next Browncoat meeting. In the spirit of geeky DIY, I decided to share some of my favorite Doctor Who projects.
Adipose Plushies
The cuddliest antagonists since Tribbles. My favorite Adipose DIY toy to date is Erica Kern's Adipose doll that was profiled on Craftzine. I caught Erica crafting in the line for Doctor Who at Comic-Con this year, and heard she even got the Who crew to sign one of her Adipose toys.

The Dalekettes

Remember the Dalekettes? I thought you might. More photos have surfaced of the trio of hot Aussie Who fans won our hearts not long ago.