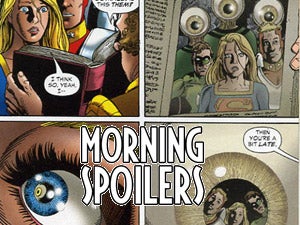 It's a spoiler: Patrick Stewart drops some X-Men hints. Doctor Who's next writer teases a historical epic. New pics show Smallville's Superman costume, Supernatural's cop-shop, and True Blood's finale. Plus 9, The Box, Dollhouse, Fringe New Moon, Stargate and Superman/Batman.

X-Men Origins: Magneto:
With rumors swirling around that this prequel could start filming in the next year or so, Patrick Stewart hints that he'll be back. Stewart told an audience at Dragon*Con that he's eager to revisit the role of Professor X. He was recently in a production of Waiting For Godot with Ian McKellen, and the two actors agreed they weren't done with the Xavier/Magneto relationship and would like to do more with it. Oh, and Stewart said he's left Jean-Luc Picard behind, but would be open to a cameo in a future film. [CNN]
9:
The ragdolls in the movie aren't just moping around pathetically feeling bad that the human race has been wiped out — they're actually quite optimistic, seeing the post-apocalyptic world as full of raw materials for themselves. They're constantly building lots of weird gadgets and stuff. [L.A. Times]
The Box:
This Richard Kelly-directed mindfrak of a film released a new trailer, but it looks pretty much identical to the trailer we featured back in June. Which could be why it's labeled as "Trailer 1B".